You are browsing Handicap Lifts in the Disabled Stair Lifts category
Handicap Lifts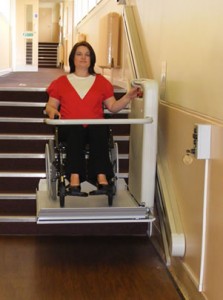 Handicap lifts, also known as wheelchair lifts, are a wonderful solution for people who are restricted to wheelchairs. We understand that not only is it difficult to manoeuvre around but stairways become absolutely impossible.
At UK Stairlifts Direct we have information about many wheelchair lifts on our website; to help you make what was impossible, possible again.
Wheelchair lifts are built strong and with your safety in mind, just like stairlifts and offer most of the features. They can be fitted indoors and outdoors, on wide stairs and narrower stairs, in public buildings and private homes, stairs will not be a problem in your life again.
Although wheelchair lifts are quite on the larger side, they can be folded away (just like stairlifts) when not in use. Not only do they make difficult places accessible to wheelchair users but they are not a hindrance to non wheelchair users.
If you are a business and are considering purchasing a wheelchair lift, it is definitely an excellent idea. For one you are allowing customers and staff easy access to all areas of the building, but by making a public building accessible to the elderly and disabled you are maximising your customer base and complying to the disability legislation.
Please do not hesitate to call us on 0800 3265627, email us at sales@ukstairliftsdirect.com or book your free stair assessment on the form to the left.
Click on the following links to read about the several different types of wheelchair lifts available to you:
The Step Lift
The Platform Stairlift
Book your Free Stair Assessment today! Call us on 0800 002 9915 or email us at sales@ukstairliftsdirect.com or fill out our contact form on the left hand side.